Cleaning and disinfection tasks in the office after the Pandemic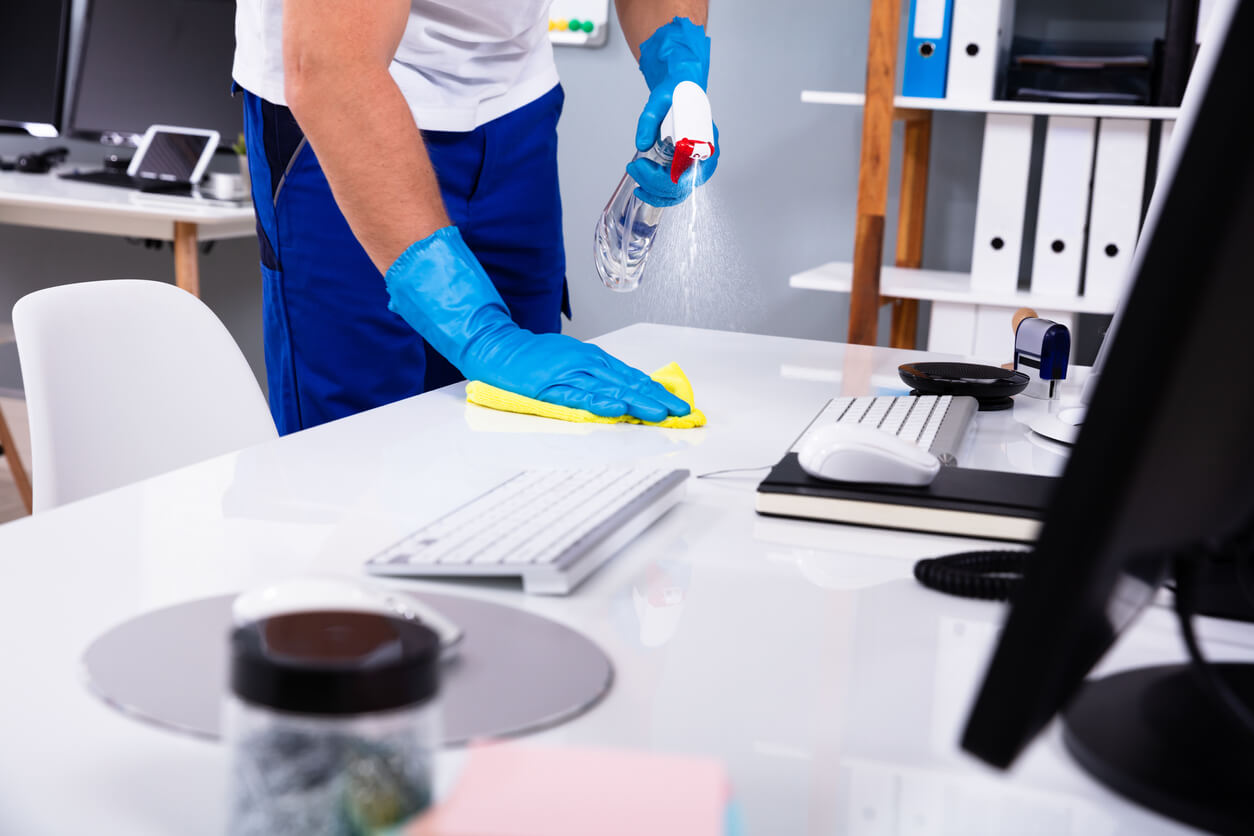 An increasing number of employees are leaving virtual working behind to return to their usual jobs, which increases the importance of implementing the correct cleaning and disinfection tasks in the office to protect against the coronavirus.
Nothing will be the same at work after this long period of confinement, so all companies and their employees must get used to complying with good practices and established protocols to be safe and minimise exposure to Covid-19.
The importance of developing a cleaning plan
The lifting of confinement measures has meant all companies have had to work hard to respond to the challenge of adapting their office spaces and guaranteeing a safe re-entry process for their workers and clients. Each office is different and has its own characteristics, so the first step we must take is to evaluate the workplace in order to develop and implement a suitable cleaning and disinfection plan.
It is necessary to determine what types of surfaces and materials are present in each area in order to know the cleaning and disinfection routine necessary. In the same way, it is very important to make a list of all the main areas of contact such as door knobs. These objects are high transmission areas so extra care should be taken by extreme cleaning and disinfection measures, reducing the minimal presence of germs and particles.
Employees Can Help
After two long months locked up in our homes, we are already aware of the importance of cleaning and disinfection techniques in the office to offer the best possible conditions at work and a safe environment for clients and workers. To get optimal results, we must find the most suitable way of working that allows us to save unnecessary time and effort.
It could be that employees are asked to sit in every other seat or perhaps working patterns can differ so all staff are not in at the same time. There are many options but to identify the most suitable one for you can take time.
Employees can also help by using hand sanitizer when entering and exiting the building and washing hands regularly.
Cleaning offices against coronavirus
The first step to achieve a coronavirus-free office is to properly clean all surfaces. First of all, we must be equipped in the correct way to avoid any type of risk of contagion, so we must always use disposable gloves, a mask and protective glasses if they are available.
All surfaces and objects in the office must be properly cleaned using professional cleaning products, which always carry a label indicating the procedure to use them properly. We must avoid using homemade cleaning solutions such as vinegar or alcohol, since these in no case will achieve the result needed.
These cleaning tasks should be carried out routinely throughout the day, emphasising those areas that are most frequently touched and have the highest level of use. Once the workers have finished their working day, it is advisable to carry out a thorough cleaning to ensure that the office is in an optimal and safe state the next day when all the workers return.